Amasuka Kodachi is a member of Division 6 and a close friend of Aldred.
Appearance
Edit
Kodachi has a slim figure and has dark skin. She has long black hair that is cut into several layers and purple eyes. Kodachi wears a version of the Millenium school's uniform, and has a black jacket with the school's red armband on her left arm. She wears a black skirt and several straps can be seen on her thighs. She has fishnet stockings, sandals, and has her nails painted black.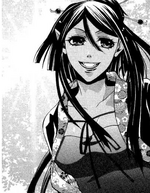 Later Kodachi is seen wearing a slightly different attire. She has decorative pins in her hair and wears a black shirt and jacket that has a flower lining. She wears a longer, black skirt with a belt and keeps her nails painted black.
Ad blocker interference detected!
Wikia is a free-to-use site that makes money from advertising. We have a modified experience for viewers using ad blockers

Wikia is not accessible if you've made further modifications. Remove the custom ad blocker rule(s) and the page will load as expected.